3rd Man Takes Deal in O.J Simpson Case


People in the News - POSTED: 2007/10/29 14:55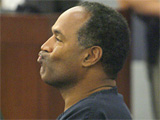 A man accused of pulling a gun as O.J. Simpson and others confronted two sports memorabilia dealers in a Las Vegas hotel room told a judge Monday that he'll accept a plea deal and testify against Simpson and two other men. Michael McClinton, 49, of Las Vegas, became the third man to agree to plead guilty to reduced charges in the case. He told Justice of the Peace Joe M. Bonaventure he will plead guilty to robbery and conspiracy to commit robbery. He could receive probation or up to 11 years in prison.
According to police reports, McClinton brought two guns at Simpson's request to a Sept. 13 confrontation with collectibles dealers Bruce Fromong and Alfred Beardsley. McClinton wielded one gun and acted like a police officer, according to others in the hotel room.
McClinton's testimony would provide prosecutors with another account contradicting Simpson's claim that no guns were involved when he went to retrieve items he said belonged to him. In brief comments outside the courtroom, his lawyer, William Terry, wouldn't say what testimony McClinton would provide.
Simpson's lawyer, Yale Galanter, did not immediately respond to a request for comment. He has criticized Clark County District Attorney David Roger for "giving away the courthouse" while cutting deals with co-defendants.
Simpson and co-defendants Clarence Stewart and Charles Ehrlich face 12 criminal charges, including kidnapping, armed robbery, assault with a deadly weapon, conspiracy and coercion, and one gross misdemeanor, conspiracy to commit a crime. A kidnapping conviction alone could result in a sentence of life in prison with parole.
Charles Cashmore and Walter Alexander have pleaded guilty to reduced charges and agreed to testify against the three men.
Alexander, a Simpson golfing buddy from Mesa, Ariz., told police that Simpson said to bring guns, and told him later to deny that guns were used. Alexander pleaded guilty to felony conspiracy to commit robbery, and could face probation or up to six years in prison.
Cashmore, a union laborer from Las Vegas, pleaded guilty to felony accessory to robbery. He could receive probation or up to five years in prison.
Authorities say memorabilia taken from the hotel room included football game balls signed by Simpson, Joe Montana lithographs, baseballs autographed by Pete Rose and Duke Snider, photos of Simpson with the Heisman Trophy, and framed awards and plaques, together valued at as much as $100,000, according to police reports.