AT&T, Verizon win government telecom contract


Business - POSTED: 2007/03/29 20:57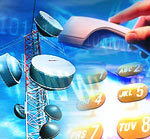 The U.S. General Services Administration cast Sprint Nextel Corp. <S.N> aside and picked AT&T Inc. <T.N>, Qwest Communications International Inc. <Q.N> and Verizon Communications <VZ.N> on Thursday for the largest-ever federal telecommunications contract.
Government agencies are expected to spend at least $20 billion on the contract over 10 years, the GSA estimates -- a move that will overhaul the government's telecommunications services.
Under terms of the GSA contract, called Networx Universal, agency spending could be increased to as much as $48 billion.
The announcement comes after weeks of anticipation and years of preparation. The four companies have spent millions of dollars preparing bids and called on thousands of their employees to develop proposals and hammer out the details.
The failure to include Sprint is seen as a huge upset as it has provided telecommunication services to U.S. government agencies for 18 years.
"Sprint is disappointed not to receive a portion of the Networx Universal contract," it said in a statement. "The Sprint team spent significant time and energy on the program and has made large investments to meet the diverse requirements of the agencies."
The company said it will request a meeting with GSA next week and will decide whether to "protest or not" after that.
JOCKEYING FOR CONTRACTS MOVES TO SECOND STAGE
Even though Sprint is out of the picture, the three winning companies will still have to compete for individual contracts within the government agencies.
The companies agreement with the GSA would allow them to sell phone and Internet services to as many as 135 federal agencies, such as the treasury and defense departments.
"It's a big win for Qwest," said the company's senior vice president Diana Gowen, while AT&T senior vice president Don Herring said his company could not be happier that it won.
Both said it was too early to say how the contract would impact overall revenue and earnings except to acknowledge that Networx Universal is a very large contract.
"We will get our fair share of the 20 billion, or 40 billion, it's all about your creativity," Gowen said.
It is not mandatory for the agencies to use a company the GSA has chosen, but there are benefits to be had, such as a common billing platform.
The Networx Universal contract is one of two that comprise the Networx program. Companies bidding on Networx Universal had to demonstrate that they could provide 36 mandatory services, such as private phone lines and secure e-mail.
The second, called Networx Enterprise, is expected to be awarded in May 2007 and required companies to show they could provide nine mandatory services. Projected spending on Enterprise is estimated at $20.1 billion.
The complete Networx contract is the third in a series of telecommunications procurement programs developed by GSA that are designed to leverage the buying power of the federal government and save U.S. taxpayers money.