Attorney Weiss gets prison in kickback scheme


Criminal Law - POSTED: 2008/06/02 20:54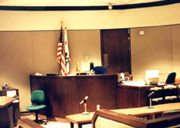 Melvyn Weiss, the co-founder of a law firm known for securities class-action suits, was sentenced Monday to 30 months in prison for his role in a lucrative lawsuit kickback scheme targeting some of the largest corporations in the nation. U.S. District Judge John F. Walter also ordered Weiss, 72, to pay $9.7 million in forfeitures and $250,000 in fines. In a prepared, handwritten statement read before sentencing, Weiss apologized for his "wrongful conduct" and described his conviction as a fall from grace. "I promise you my contrition is profound and genuine," he said.
Weiss pleaded guilty to a racketeering conspiracy charge in April as part of an agreement with prosecutors.
Prosecutors had asked for a 33-month sentence. Weiss and his attorneys had sought a reduced sentence, citing his age and contributions inside and outside courtrooms.
Authorities said the law firm made about $250 million over two decades by filing legal actions on behalf of professional plaintiffs who received $11.3 million in kickbacks.
The firm dominated the industry in securities class-action lawsuits, which involve shareholders who claim they suffered losses because executives misled them about a company's financial condition.
The kickback scheme allowed attorneys at the firm then known as Milberg Weiss to be among the first to file litigation and secure the lucrative position as lead plaintiffs' counsel, according to court documents.
The lawsuits targeted companies such as AT&T Inc., Lucent, WorldCom, Microsoft Corp. and Prudential Insurance.
A seven-year investigation has resulted in guilty pleas by three of Weiss' former partners.
Two defendants remain in the case -- the firm itself, now known as Milberg LLP, and attorney Paul T. Selzer. Trials for those defendants are scheduled in August.
Judge Walter called the kickback scheme "extremely serious" because attorneys such as Weiss had not disclosed to judges handling class-action cases that the lead plaintiffs were paid for their involvement.