Bloomberg Reports for Jury Duty


People in the News - POSTED: 2007/08/06 16:24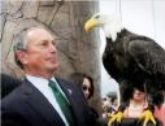 Mayor Michael Bloomberg reported for jury duty on Monday, along with about 125 other New Yorkers who eyed him between glances at their newspapers, books and court paperwork.
"The mayor, yeah," a woman whispered into a pink cell phone, as she settled into the row behind him in the common room where jurors wait all day to be called. Yes, she said, even he had to show up for the "same foolishness" as everyone else.
As an orientation video started up, another woman approached Bloomberg for an autograph. He obliged, and chatted with her for a moment. He was accompanied at the courthouse by his security entourage and press aides.
The mayor was expected to serve the full day, as civil cases in State Supreme Court assembled their juries. A slow August calendar meant that he might be able to go home after one day, instead of the usual two, court officials said.
If picked, Bloomberg would become the second sitting mayor in a row to be part of a jury. His predecessor, Rudy Giuliani, was the foreman on a jury in a landlord-tenant dispute during his second term in 1999.
As he arrived at the courthouse in lower Manhattan, just a few blocks from City Hall, Bloomberg sounded almost as if he hoped he would end up on a panel:
"It's always more interesting to be on a jury than to just sit there," he said. "You wish that we didn't need juries, that there was no crime and no civil suits but the real world is people have to make decisions as to what's right and wrong."
Other high-profile New Yorkers who have been called to serve over the years include Spike Lee, Woody Allen, Sarah Jessica Parker, Matthew Broderick, Barbara Walters, Conan O'Brien, news anchor Ann Curry, singer Roseanne Cash, sex therapist Dr. Ruth Westheimer and Eliot Spitzer, before he became governor.
Bloomberg last was called in February 2001, the year he ran for mayor. The billionaire businessman served one day but was not picked for a jury. He also served one day in February 1996.
He has been picked to be a juror several times, spokesman Stu Loeser said, serving seven days on a jury in 1992, six in 1988 and five in 1981.
Giuliani served for a $7 million civil personal-injury case of a man who sued his landlord, claiming faulty plumbing caused him to scald himself while taking a shower. The jury in state Supreme Court did not find the landlord negligent.
At the time, the five other jurors said Giuliani, a former prosecutor, acted just like a regular guy.
The plaintiff's attorney complained that Giuliani's presence was detrimental to his case and claimed he would have tried to get Giuliani off the panel if he had been present when the mayor was chosen. The defendant's attorney said he thought Giuliani did not influence the other jurors.