Court Approves Water Project Near Mexican Border


Court Watch - POSTED: 2007/04/09 08:55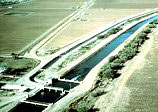 An appeals court has ruled that the federal government can line a major canal with concrete to stop huge leaks, rejecting arguments that growers across the border in Mexico need the leaking water for their crops.
Proponents of lining the All-American Canal say it would save 67,000 acre-feet of water, enough to meet the needs of more than 500,000 homes in fast-growing San Diego County.
Opponents, who sued to block the project, said it would devastate farmers in the Mexicali Valley.
A three-judge panel of the 9th U.S. Circuit Court of Appeals ruled in favor of a law signed by President Bush last year that orders the Bureau of Reclamation to start the project without delay.
The court's ruling lifts an injunction granted last year when opponents sued.
Although more appeals are possible, the project's supporters said they hoped Friday's decision resolves the issue.
"This is truly a Good Friday," said Daniel S. Hentschke, a San Diego County Water Authority attorney. "This is enormously important for San Diego and the entire state."
The 82-mile-long canal was completed in 1942 to carry water west from the Colorado River. It irrigates crops along both sides of the border in an area about 100 miles east of San Diego.
Opponents of the $200 million project include both environmentalists and business representatives. They said lining a 23-mile section of the canal will dry up tens of thousands of acres of Mexican farmland, allow Mexican wells to become polluted and threaten migratory birds by eliminating wetlands. That could cause significant job losses and other economic problems on both sides of the border, they said.
The court said Mexico already takes 1.5 million acre-feet of Colorado River water a year under the terms of a 1944 treaty and is entitled to no more.