Court Takes Money Laundering Case


Court Watch - POSTED: 2007/10/16 12:15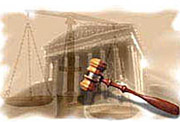 The Supreme Court agreed Monday to decide whether merely hiding money that is headed out of the United States can constitute money laundering. The case involves the conviction of a man arrested in Texas while traveling toward Mexico with $83,000 in cash hidden beneath the floor of his car. Police suspected the money came from drug trafficking. Humberto Fidel Regalado Cuellar was sentenced to 78 months in prison for international money laundering.
Money laundering typically involves an effort to make it appear that money from an illegal transaction, often drug sales, is legitimate.
Several federal appeals courts have said that concealing money that is going across the U.S. border, without proving why, also is a crime under the federal law concerning international money laundering.
A three-judge panel reversed Cuellar's conviction on a 2-1 vote, saying that prosecutors had to show that the defendant's activities were designed to create the appearance of legitimate wealth.
Acknowledging that the money likely was drug proceeds and that Cuellar knew it, the appeals panel said the government did not prove that Cuellar was trying "to create the appearance of legitimate wealth." He could have been charged with smuggling cash, the judges said.
The full 5th U.S. Circuit Court of Appeals rejected that decision and affirmed the conviction, declaring that it makes no sense to say that Congress chose the word "conceal" to apply only in a certain way.
"Concealment of the funds during the U.S. leg of the trip is a vital part of the transportation design or plan to get the funds out of this country," the full appeals court said.
In asking the justices to take the case, Cuellar's lawyers said the appeals court decision incorrectly expands the scope of the money laundering law.
Defense lawyers who urged the court to hear Cuellar's case said the concealment provision — with its maximum prison term of 20 years and fine of $500,000 — has proven highly useful to prosecutors in forcing guilty pleas from defendants.
"The mere threat of a money laundering charge can be a powerful weapon in the prosecutor's negotiating arsenal," the brief for the National Association of Criminal Defense Lawyers said.
Had Cuellar been charged with smuggling, he would have faced up to five years in prison, the defense lawyers said.