Disorder in the Court: Lawyer Punched


Court Watch - POSTED: 2008/02/07 14:15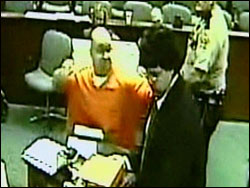 A public defender who was punched in court by a disgruntled client said Thursday he doesn't blame the man who gave him with two black eyes. The disorder in the court, captured on video, happened Monday at Scott County Circuit Court after the judge refused defendant Peter Hafer's request for a new attorney.
Hafer, 30, of Cynthiana, told the judge he didn't trust his court-appointed lawyer, Doug Crickmer. As Crickmer began to tell Judge Rob Johnson that Hafer couldn't choose his public defender, Hafer landed the first punch.
"I just couldn't take it anymore and I just snapped," Hafer said later at the Scott County jail.
Hafer hit the attorney several times in the face and stomach. Hafer was restrained on the ground. Crickmer was admitted to Georgetown Community Hospital and released later that day. He said he will not file assault charges.
"I certainly don't fault him or blame him or wish him any ill will," Crickmer said Thursday on NBC's "Today" show. "I think Mr. Hafer was just frustrated. Like I said, he had been in jail for some time. ... I think he just got frustrated, fed up, and he just snapped and I was the nearest target."
Hafer was arrested in August on charges of burglarizing a K-Mart store in June.
As for his request for a new attorney, Hafer apparently will get his way. Authorities said a new one will be appointed.