Executives plead guilty in prison-food bribery case


Court Watch - POSTED: 2007/04/07 06:55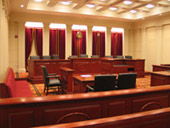 Two executives of a Los Angeles food company pleaded guilty in federal court Thursday to bribery charges arising from $532,000 in alleged kickbacks to Fred Monem, Oregon's recently fired prison food buyer. Pleading guilty in federal court in Eugene to bribery and tax fraud, Michael Levin, 52, and William Lawrence, 48, agreed to cooperate with government prosecutors, court papers show.
Assistant U.S. Attorney Christopher Cardani said prosecutors would recommend lenient sentences for both men, provided they continued to cooperate. Each man could face as long as 13 years in prison if maximum penalties are imposed.
Government attorneys and Levin and Lawrence agreed in a "statement of facts" document that Monem received $532,000 from L&L Inc., which the two defendants own.
"These payments were meant to influence and reward the (Oregon Department of Corrections) employee, and corruptly ensure future sales of distressed foods by L&L Inc. to ODOC," the document says.
Between July 2004 and January 2007, the Oregon prison system purchased $4.36 million worth of food from the California firm, court papers show.