Gallop, Johnson & Neuman Names General Counsel


Law Firm News - POSTED: 2007/05/23 18:32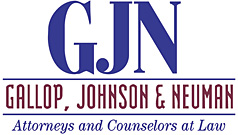 John W. Traeger, a law partner at Gallop, Johnson & Neuman, L.C. in St. Louis with extensive experience dealing with federal, state and local environmental regulatory authorities, has been named internal General Counsel with oversight responsibilities regarding ethics, compliance, client service excellence, legal training and professional conduct issues for the firm.
As General Counsel, a newly appointed professional position at Gallop, Johnson & Neuman, Mr. Traeger is responsible for addressing potential issues regarding professional responsibility and legal compliance, mentoring, continuing legal education and attorney recruiting practices, as well as internal matters of attorney-client privilege and confidentiality.
Mr. Traeger is a member of Gallop, Johnson & Neuman's Real Estate Practice Area and chairman of the firm's Environmental Law Practice Area. He has extensive experience in areas of environmental, administrative and corporate law. He also serves on the firm's Ethics Committee, Mentoring Committee and Lateral Committee, the latter of which focuses on attorney recruiting. Mr. Traeger will continue to serve clients of Gallop, Johnson & Neuman and to chair the firm's Environmental Law Practice Area.
Thomas J. Campbell, Managing Partner of Gallop, Johnson & Neuman, said, "The appointment of John Traeger as General Counsel strengthens our firm's commitment to client service excellence, mentoring and professional responsibility in the legal profession."
Before joining Gallop, Johnson & Neuman in 2000, Mr. Traeger served as internal corporate counsel at Ralston Purina Co. and Continental Baking Co in St. Louis. His legal experience in environmental areas includes matters of mergers and acquisitions, Superfund litigation, the Clean Air Act and Clean Water Act, environmental site assessments, wetlands and hazardous waste issues. Mr. Traeger also serves clients regarding business and real estate issues, and electronically stored records management programs to assure compliance with federal and state regulations.
Mr. Traeger is a member of The American Bar Association, The Missouri Bar, The Bar Association of Metropolitan St. Louis, and the St. Louis Regional Chamber and Growth Association. He earned a J.D. degree from St. Mary's University School of Law and a Bachelor of Sciences degree from Colorado College.
Gallop, Johnson & Neuman has served clients in St. Louis and around the world for more than 30 years. The law firm and its attorneys are distinguished by a Commitment to Excellence. The firm serves public and privately held corporations, small companies, start-up enterprises, entrepreneurs and non-profit entities, as well as individuals and families. Gallop, Johnson & Neuman is one of the ten largest law firms in St. Louis. Offices are located at 101 South Hanley Road, Suite 1700, Clayton, Missouri, 63105.