Holme Roberts & Owen LLP opens London office


Law Firm News - POSTED: 2008/01/21 15:58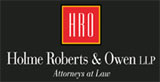 Denver-based law firm Holme Roberts & Owen LLP said Friday it is opening a London office in partnership with two British attorneys. HRO said that the London firm Grant Dawe LLP -- formed in 2006 by Tony Grant and Jonathan Dawe -- and HRO attorney Paul Thompson will form a London-based partnership as HRO Grant Dawe LLP.
The Denver firm has often worked with Grant and Dawe in the past.
The partnership "will combine Grant Dawe's successful niche corporate practice in the UK with a major U.S. law firm with a significant presence in the United States and a strong international emphasis," HRO said Friday in a statement. HRO already has an office in Munich.
HRO, founded in 1898, is one of Denver's oldest and largest law firms, with about 150 lawyers locally and 250 worldwide.
Besides Denver, London and Munich, the firm has offices in Boulder, Colorado Springs, Los Angeles, Salt Lake City and San Francisco.

http://www.hro.com