Judge Says Couey Eligible For Death Penalty


Court Watch - POSTED: 2007/08/09 09:00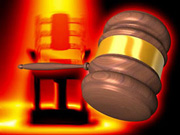 Circuit Judge Richard Howard ruled Tuesday that John Couey is not mentally retarded. That means Couey, 48, is eligible for the death penalty. Defense attorneys argued Couey cannot face execution because he is retarded. Howard sifted through a great deal of evidence and testimony on the issue of Couey's mental status and ultimately relied on what he called the most credible intelligence test: one administered by prosecution expert Gregory Pritchard, a clinical psychologist.
Couey scored 78. The legal cutoff point is 70.
"The judge's ruling is consistent with the position that I took. He [Couey] is not retarded, and he's not retarded beyond a reasonable doubt," Chief Assistant State Attorney Ric Ridgway said Tuesday night. The prosecutor had read the judge's ruling earlier in the evening.
Couey was convicted in March of burglary, kidnapping, sexual battery and murder in the 2005 death of Jessica, a 9-year-old third-grader from Homosassa. The same Miami jury recommended, in a 10-2 vote, that the convicted sex offender be sentenced to death.
The judge's ruling means a possible death sentence is looming. Howard is not obliged to follow the jury's recommendation, but is required to give it "great weight."
Ridgway declined to predict the sentence. A hearing is scheduled for Aug. 24.
"It would not be appropriate to say this foreshadows what the judge's ruling will be," Ridgway said.
To have proven Couey was retarded, defense attorneys had to show that his IQ was less than 70, that he lacks adaptive functioning and that the retardation existed before he was 18. A 2002 Supreme Court ruling forbids the execution of the mentally retarded.
Members of the Lunsford family could not be reached Tuesday for comment.