Justices to consider voter identification


Law Center - POSTED: 2007/09/28 11:57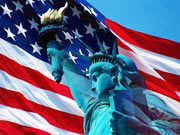 The Supreme Court said Tuesday that it will consider whether state laws requiring voters to present photo identification at polling places unfairly discriminate against the poor and minorities, injecting the justices into a fiercely partisan battle just before the 2008 elections. At a time when polarization on the court - many of its recent decisions have been decided 5-4 - has turned it into a target for political partisans, the justices are stepping into a political battle with its decision to accept the voter identification case.
Proponents of the laws that have been passed since the contested 2000 presidential election say the measures combat fraud. But opponents said poor people and minorities who often don't have driver's licenses, passports or other government-issued identification would be excluded from the polls.
Seven states require a photo identification to vote and 17 states require identification without photos. The battle has broken down over partisan lines with Republicans favoring laws they said would combat voter fraud while Democrats have pushed proposals they said would encourage more voter participation.
The voter identification case is from Indiana, where Secretary of State Todd Rokita, a Republican, said "voter fraud exists and Hoosiers shouldn't have to become further victims of it."
But state Democratic Party chairman Dan Parker, whose party urged the court to take the case, said Republicans have "relied on fear and flimsy legal logic to push through a policy that deters voting instead of promoting it."
A spokesman for the Republican National Committee responded cautiously to the announcement. "We are pleased that the Supreme Court is bringing attention to this important issue," Danny Diaz said.
"This is another step to ensure that every citizen who is eligible to vote will have that right."
Donna Brazile, a Democratic strategist who heads the DNC Voting Rights Institute, likened voter requirements to a "modern-day poll tax" designed to disenfranchise black and poor voters.
"Some of us in the voting rights community are very nervous because we fear the court will make matters worse," she said.