Kidman wins damages over snub claim


People in the News - POSTED: 2007/12/16 11:20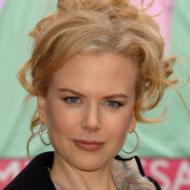 Actress Nicole Kidman, the face of Chanel No.5, has accepted substantial damages over a claim that she snubbed the perfume by promoting a competitor. The 40-year-old Oscar winner was not at London's High Court for the settlement of her libel action against The Daily Telegraph. Her solicitor, John Kelly, told Mr Justice Gray that she had suffered considerable embarrassment and distress over the story, which appeared last month.
The item in the newspaper's Spy column falsely alleged that, whilst in London to promote her new film, The Golden Compass, Ms Kidman had put Chanel's nose out of joint by attending press junkets with a bottle of Jo Malone, her "favourite perfume", close at hand.
It also falsely claimed that despite having signed a multi-million pound contract with Chanel, the actress was openly promoting a competitor's product and "kept dabbing" on the perfume whenever she had a moment.
Mr Kelly said that the story meant that Ms Kidman had acted in an unprofessional and disloyal manner by brazenly snubbing Chanel, had flouted the terms of her contractual obligations and had proved she could not be trusted to honour them.
He added that Telegraph Media Group Ltd now accepted that the allegations were untrue and, indeed, had established that the source of the article invented the story.
It had agreed to pay Ms Kidman her legal costs and substantial undisclosed damages, which she intended to donate to Unifem, the United Nations Development Fund for Women.
David Price, the newspaper's solicitor-advocate, sincerely apologised on its behalf.