Mexican consulate sees rise in document requests


Immigration - POSTED: 2007/10/10 14:27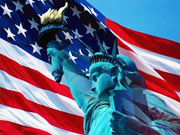 Clergy, immigrants and immigrant advocates say most undocumented immigrants are taking a wait-and-see attitude on Arizona's upcoming employer-sanctions law. Others say the state's move to crack down on undocumented workers has led some of them to leave Arizona for other states or to go back to Mexico. When it takes effect, the law will require all employers to verify the employment eligibility of new hires using a federal database.

It also threatens to put employers out of business if they knowingly or intentionally hire unauthorized workers.


Carlos Flores Vizcarra, the consul general of Mexico based in Phoenix, said he doesn't believe a large exodus of immigrants has yet materialized.
There is ample evidence, however, that many are preparing to return to Mexico or move to other states.


"What I am seeing is an increasing number of Mexican nationals coming to the consul to get documents," Flores Vizcarra said.


"This is what I would call a process of preparation. They are getting ready to leave, some of them."

Immigrant advocates said many want to see whether two lawsuits aimed at blocking the sanctions law are successful, while others want to see how it will be enforced.
If a large-scale exodus does happen, it probably won't occur until December, just before the law takes effect Jan. 1, religious leaders and others said.


By then, a federal ruling could be handed down on lawsuits that claim the sanctions law should be struck down on the grounds that it is unconstitutional.


"There is no doubt that people have left, but I see no evidence of massive leavings," said Alfredo Gutierrez, who hosts a popular talk-radio program for immigrants on the Spanish radio station La Campesina (88.3 FM).


But certainly people are really talking about it. Some are thinking about going back to Mexico, Gutierrez said.


The law passed the Legislature this year and was signed by Gov. Janet Napolitano on July 2.


Backers said it is intended to crack down on illegal immigration by removing the job magnet that draws undocumented workers to Arizona.


Business owners have said a mass exodus of workers could devastate the state's economy.


Immigrants said the sanctions law has raised fears they will lose their jobs and won't be able to find another one.