Mike Tyson pleads guilty to drug possession


People in the News - POSTED: 2007/09/26 14:55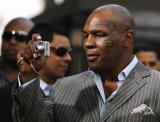 Former heavyweight boxing champion Mike Tyson pleaded guilty to drug possession and driving under the influence in an Arizona court on Monday. His plea stemmed from an arrest last December in which authorities said Tyson, who has a long history of legal problems, admitted to using cocaine that day and to being addicted to the drug. He now faces up to three years and nine months in prison for the felony possession charge and up to six months in jail for the misdemeanour DUI count. The 41-year-old boxer is scheduled to be sentenced on November 19.
Dressed in a light blue shirt and dark blue trousers during a brief appearance in Maricopa County Superior Court, a sombre Tyson quickly answered a series of questions by the judge about the plea agreement, responding, "guilty" when asked how he pleaded to each count.
Tyson was arrested in December 29 in Scottsdale, Arizona, after being spotted driving erratically upon leaving a nightclub and nearly colliding with a sheriff's vehicle, authorities said.
Prosecutors on Monday said Tyson had 2.16 grams of cocaine in his possession and traces of marijuana in his system at the time of his arrest.
"Mike admitted to possessing bags of cocaine and said he uses any time he can get his hands on it," the arresting officer wrote in his report.
Tyson's attorney, David Chesnoff, said the controversial boxer is undergoing substance abuse treatment at a California rehabilitation facility and has been sober for eight months. Tyson in April sold his home in the posh Arizona community of Paradise Valley.
"He took the bull by the horns and has managed to deal with his addictions and stay sober for an extended period of time," Chesnoff told reporters after the hearing. "He's not in denial. He's acknowledged that what he did was wrong."
Tyson served three years in an Indiana prison following a 1992 rape conviction. In 1999, he was sentenced to one year in jail after pleading no contest to two misdemeanour assault charges in Maryland. He was released after 3 1/3 months behind bars.
The prize fighter once known as "Iron Mike" was banned from boxing for a year after biting a chunk out of rival Evander Holyfield's ear in their world title bout in Las Vegas in 1997. Tyson retired two years ago with a 50-6 record that included 44 knockouts.