Miller Canfield law firm relocates


Law Firm News - POSTED: 2008/03/06 17:41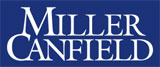 Miller Canfield's Kalamazoo law office has relocated into a 32,000-square-foot suite on the top two floors of the new building that bears its name in downtown Kalamazoo.
The 151,000-square-foot Miller Canfield Building at 277 S. Rose St. is being called the first Class A office building to be built in downtown in more than 20 years.
Catalyst Development Co., part of building owner The Greenleaf Cos., has placed the building cost at $32 million. Construction redeveloped a space that had held an older office building and parking lot.
"We're pleased to be a part of Kalamazoo's renaissance," Miller Canfield Resident Director John R. Cook said in a press release. "This new building represents our commitment to the community, while the state-of-the-art facility will allow us to expand and provide services to clients around the block and around the world."
The office's 40 lawyers and staff of 36 relocated from 444 W. Michigan Ave. They are part of an 800-attorney law firm established in Detroit in 1852 that has offices in Michigan, Illinois, Massachusetts, Florida, New York, Canada and Poland.
According to information provided by the firm, it has grown from 18 lawyers in 1984, when Brown, Colman & DeMent merged with Miller Canfield.
Its legal practices include business law, securities, mergers and acquisitions, real estate, banking, intellectual property law, bankruptcy, litigation, labor, tax, health law and corporate-discovery-management services.