New Orleans politician pleads guilty to bribery


Law Center - POSTED: 2007/08/14 19:02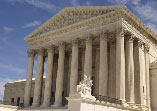 A prominent New Orleans politician pleaded guilty on Monday to federal corruption charges and resigned his seat on the City Council. Councilman Oliver Thomas, 50, admitted in court that he had accepted more than $18,000 dollars in kickbacks in 2002 in exchange for helping a businessman retain a lucrative city parking contract in the famed French Quarter.
"It was wrong and I accept full responsibility for this action," Thomas told a news conference. "I will continue to work for the city I love and I have made peace with my God."
Thomas, a councilman for 13 years and a leading voice for the recovery of the city from the devastation of Hurricane Katrina in 2005, had been expected to be a strong candidate for mayor when the city picks a successor to Ray Nagin in 2010.
Before U.S. District Judge Sarah Vance, Thomas pleaded guilty to bribery and faces up to 10 years in prison and $250,000 in fines. However, he has agreed to cooperate with federal prosecutors in an ongoing investigation into corruption in New Orleans.
"This guilty plea is a body blow to a community that is already reeling under a wave of public corruption," Vance said at the hearing. "If this city is ever to recover, we have to have an end to this kind of venality."
Thomas' troubles are the latest in a city and state, Louisiana, with a history of corruption in politics.
U.S. Rep. William Jefferson, a Democrat from New Orleans, was indicted in June on corruption charges linked to business deals in Africa.
Investigators found $90,000 in cash in the freezer of his Washington-area home. Jefferson has denied any wrongdoing.
U.S. Sen. David Vitter, a Republican from the New Orleans suburbs, admitted last month to having committed a "very serious sin" after his number was found in the phone records of a woman accused of running a Washington prostitution ring.