Pennsylvania illegal immigration law trial concludes


Immigration - POSTED: 2007/03/23 14:40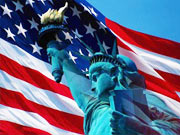 The federal trial of a lawsuit launched by the American Civil Liberties Union (ACLU) challenging the constitutionality of two laws passed by the city of Hazleton, Pennsylvania that make it more difficult for illegal immigrants to live or work in the town ended Thursday. US District Judge James Munley of the Middle District of Pennsylvania may take several months to decide Lozano v. City of Hazleton, which considers whether the Illegal Immigration Relief Act and the Landlord Tenant Ordinance are reasonable. ACLU lawyers, including Pennsylvania legal director Vic Walczak, argued that the laws "unfairly demonized undocumented immigrants", and violate the Constitution's Supremacy Clause by conflicting with federal immigration law. The team also made arguments that the laws violate due process and equal protection rights. Hazleton Mayor Lou Barletta argued the laws passed in July are an appropriate response to illegal immigration, citing a 70% increase in violent crime since 2001.
The courthouse barred all electronic recording devices, but on Thursday plaintiffs lawyer Jackson Chin, appearing for the Puerto Rican Legal Defense and Education Fund (PRLDEF), described the proceedings in detail for JURIST:
Plaintiffs' case-in-chief consisted of live testimony from 5 plaintiffs, 6 fact witnesses (Defendant City's Mayor and city officials), 3 experts, and the submission of deposition testimony for four of the Doe Plaintiffs. Plaintiffs presented its case: that after its Complaint identified flaws in the first ordinance which penalized all who provided goods and services as aider-abettors of illegal immigration, Defendant City of Hazleton repealed its first ordinance (passed in July 2006). The City enacted and amended its ordinances two more times with the help of the Federation for American Immigration Reform (FAIR), a D.C.-based immigration restrictionist lobby and its attorney Kris Kobach. In promoting the ordinances, the Mayor repeatedly cited a particular murder incident involving illegal alien suspects, but testified he had possessed no empirical crime data or population data to support his claim that swelling numbers of illegal aliens had created a wave of terror in its city. Of the tens of thousands of crimes recorded in Hazleton's Police data in a five year period, only 20 were credibly by attributed to the undocumented.
With a series of amendments, the Hazleton ordinances are confusing to its residents. Each tenant and household occupant (over the age of 18) is required to apply in-person at City Hall for a Tenant occupancy permit upon showing document proof of citizenship and legal status; landlords are prohibited from renting to tenants without such permits risking $1000 a day fines. Any person can file a bare complaint with the City alleging that a business or landlord is harboring an illegal immigrant, triggering burdens upon landlords and business owners to cure or lose their business license and right to collect rents. And, the City's English-Only law governs the provision of city services.
Plaintiffs showed that in the months that followed and in a national election year, the Defendant Mayor's media driven campaign stoked panic and fear among the City's newcomer Latino residents and business owners. Latinos complained about illegal police ID checks of Latino immigrants in the streets, public insults, and, parents fretting over the welfare of their school-age children. These led to Latinos staying at home, the flight of immigrant families, businesses in the City's Hispanic district losing customers, mounting sales income losses due to a "ghost-town" effect, mortgage defaults arose, Latino businesses closing, and landlords with hardships renting to tenants. The court issuance of the TRO (October 31, 2006) provided a stabilizing effect but the ordinance's intended impact was palpable. Plaintiffs also showed that the police chief and other officials were not consulted by the Mayor, that no research existed tending to show a crisis of illegal immigrants existed before the bills were proposed, and, that the City's blame failed to distinguish its Latino residents, whether citizen, immigrant or undocumented, causing community fear and discord.
The Defendant conceded on Day One that it would voluntarily remove a reference to race and national origin in the text of its ordinance to vitiate Plaintiffs' equal protection claim. Three days later, the City amended the challenged ordinance in a special session.
Defendant's case included testimony from 4 experts, 5 fact witnesses, and, the Defendant City's Mayor. The thrust of Defendant's case was to attempt to justify the City Mayor's motto that "illegal is illegal" and that such persons must be driven out of his city. Even if mixed status families lived in his city. Defendant's experts asserted that national data could be used to project the adverse fiscal impacts of illegal immigrants with low job skills on localities, as seen in local schools' increased ESL enrollments, particular crimes, low payroll taxes, and, the longer waiting times in the region's hospital emergency room. A battle of experts discussed whether the city ordinance's reliance on accessing federal immigration databases was realistic or problematic, and, whether databases were error-prone and incomplete.
At trial, the Court made frequent favorable rulings for both parties on admissibility and "relaxed" the federal rules of evidence on hearsay evidence, etc. desiring to hear as much as possible. The parties will submit their post-trial briefs due in April 2007. Then, the court will make a decision. It is likely the losing party will take an appeal to the 3rd Circuit.
The Hazleton laws have been under a temporary restraining order blocking enforcement since last November.