Senate Leaders Agree to Revive Immigration Bill


Immigration - POSTED: 2007/06/15 16:22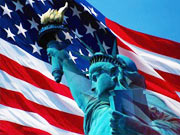 President Bush and Senator Harry Reid of Nevada, the Democratic majority leader, pledged today to work for passage of the suddenly revived immigration bill, with Mr. Reid saying Senate Democrats would sacrifice their Fourth of July break, if necessary. "Each day our nation fails to act, the problem only grows worse," Mr. Bush said at the National Hispanic Prayer Breakfast here. "I will continue to work closely with members of both parties to get past our differences and pass a bill I can sign this year."
Mr. Reid, speaking the day after he and his Republican counterpart announced an agreement on bringing the bill back to the Senate floor, said: "We hope the president will work with us, and that Congressional Republicans will not stall our efforts to strengthen our national security and economy. If they do, Democrats are prepared to work through the weekends and the July 4 district work period to accomplish our goals."
The term "district work period" is a euphemism for "recess," and Mr. Reid's willingness to sacrifice it is a reflection of his desire not to squander an opportunity to gain passage of comprehensive immigration legislation.
Mr. Reid and the Republican minority leader, Senator Mitch McConnell of Kentucky, said on Thursday evening that they expected the bill to return to the floor before the Fourth of July recess.
In a joint statement, Mr. Reid and Mr. McConnell said: "We met this evening with several of the senators involved in the immigration bill negotiations. Based on that discussion, the immigration bill will return to the Senate floor after completion of the energy bill."
The immigration bill, ardently sought by President Bush, would make the biggest changes in immigration law and policy in more than 20 years.
It would increase border security, crack down on companies that employ illegal immigrants, establish a guest worker program and offer legal status to most of the estimated 12 million illegal immigrants.
The agreement does not guarantee that the bill will be approved by the Senate. And even if immigration legislation is approved by the Senate, it will die unless the House also approves a bill and the two chambers can reconcile their differences. Supporters of the bipartisan Senate bill predict that some conservative Republicans will try to block a vote on final passage, because of concerns about the legalization program.