Sony drops cost of PSP handheld game device


Business - POSTED: 2007/04/05 02:58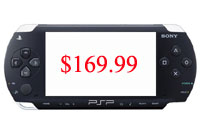 Looking to lure more American gamers, SONY Computer Entertainment America announced Tuesday it will cut the price of its handheld PlayStation Portable game device from 200 U.S. dollars to 170 dollars. Sony is hoping to deepen its market penetration alongside Nintendo DS and Nokia's N-Gage by attracting young male gamers with a lower priced handheld game system.
"We have always been passionate about making great entertainment accessible to everyone, and the new price for PSP, as well as the continued growth of the "Greatest Hits" library, reflect our ongoing commitment to supporting and expanding the PSP community," said Jack Tretton, president and CEO, Sony Computer Entertainment America.
The PSP is in its third year of production, and lately has been outshone by the popular DS.
"The PSP needed a price cut to reinvigorate the market. Wal-Mart sold the PSP for 169 dollars for five hours on Black Friday -- a time in which we believe the company was able to sell over 100,000 pieces of hardware," BMO Capital Markets analyst Edward Williams said in a client note.
Williams said main beneficiaries of the price cut should be video-game retailer GameStop, and to a lesser extent Take-Two Interactive Software, which has a healthy line-up of games for the paperback book-sized device.
"In general, though, all publishers should benefit," Williams said.
In 2006, PSP shipments rose to nearly 25 million units worldwide, with more than one million new PSP systems sold in North America in December alone. In addition, software shipments increased to more than 90 million units last year, according to Sony's figures.
The PSP platform is also slated for further market penetration this year with new game releases. The 2007 game releases lineup includes "God of War," "Ratchet & lank," "SOCOM: U.S. Navy SEALs," "Daxter," and "Syphon Filter: Dark Mirror."
Sony Computer Entertainment America is a division of global electronics maker Sony.
A representative for Sony in Japan said there would not be an immediate price cut on the PSP in that market.