Supreme Court rules against investors in fraud case


Law Center - POSTED: 2008/01/15 17:04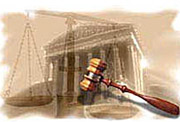 The Supreme Court on Tuesday ruled against investors seeking to sue businesses for scheming to manipulate stock prices of publicly traded companies. In a 5-3 ruling, the court gave a measure of protection from securities suits to suppliers, banks, accountants and law firms that do business with corporations engaging in securities fraud.
The court ruled against investors who alleged that two suppliers colluded with Charter Communications Inc. to deceive Charter's stockholders and inflate the price of the cable TV company's stock.
Charter investors do not have the right to sue because they did not rely on the deceptive acts of Charter's suppliers, said the majority opinion by Justice Anthony Kennedy.
Kennedy pointed to the Securities and Exchange Commission as a protector of investors in similar cases and that the regulatory agency has used its enforcement power to collect more than $10 billion over the past five years.
The decision is likely to have an impact on a similar class-action lawsuit by shareholders who invested in scandal-ridden Enron Corp.
Investors in Enron, once the nation's seventh-largest company, are seeking more than $30 billion from Wall Street investment banks, alleging they schemed with Enron to hide its financial problems.
In the Supreme Court, the lawsuit against Charter's suppliers has been closely watched by business and industry, which argued that an adverse ruling would clear the way for a flood of lawsuits.
In dissent, Justice John Paul Stevens said the court is conducting a continuing campaign to undercut investor lawsuits.
A liberal Supreme Court in 1971 endorsed investor lawsuits under antifraud provisions of securities law at issue in the current lawsuit. In 1994, a more conservative Supreme Court imposed limits on such lawsuits, prohibiting cases against third parties for aiding and abetting a company's misstatements. The Republican-controlled Congress enacted the restrictions into law the next year.
In a scheme allegedly designed to inflate the cable TV company's revenue picture, Charter got Motorola and Scientific-Atlanta to buy advertising with money that Charter provided. Charter supplied the funds by paying a $20 premium on each of hundreds of thousands of cable TV set-top boxes, for a total of $17 million. The amount of the overpayments equaled the amount the two suppliers paid for the ads.
Charter reported the advertising payments as revenue, a step that helped Charter meet Wall Street's expectations for the fourth quarter of 2000.
Motorola and Scientific-Atlanta allegedly backdated the contracts for the set-top boxes to make the advertising and the set-top boxes transactions appear unrelated. Scientific-Atlanta allegedly submitted documentation to Charter attributing the price increase to increased manufacturing expenses.
Justice Stephen Breyer disqualified himself from the case because he owns stock in Cisco Systems Inc., which now owns Scientific-Atlanta.