US Supreme Court stays Alabama execution


Breaking Legal News - POSTED: 2008/02/01 17:07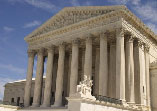 The US Supreme Court on Thursday issued an order staying the execution of a convicted rapist and murderer, as part of its decision to review the legality of lethal injections nationwide. The reprieve came hours before James Callahan, 61, was scheduled for execution at Alabama's Holman prison. Callahan was sentenced to death for the 1982 rape and murder of a Jacksonville State University student.
The Supreme Court's stay of execution followed its decision in September to hear a challenge to the constitutionality of the cocktail of chemicals used in lethal injections. The court began hearing arguments on this on January 7.
Local courts and state governments across the United States have put executions on hold while they await the Supreme Court decision, which is expected before the end of its term in July.
The review centers on the three-stage cocktail of drugs used in the injections -- the first chemical puts the prisoner to sleep, the second paralyzes the muscles and the third stops the heart.
If all goes to plan, the inmate quickly falls unconscious and dies within minutes. But if the first chemical is not administered properly, the two others become extremely painful, as shown by several botched executions.
Lawyers arguing against lethal injection say it violates the eighth amendment of the US constitution, which outlaws "cruel and unusual" punishment.
In December, New Jersey became the first US state in 40 years to abolish the death penalty. But opinion polls suggest that two-thirds of Americans continue to favor capital punishment, and more than 3,200 inmates remain on death row across the country.