Woman pleads not guilty in fatal fire


Breaking Legal News - POSTED: 2007/04/20 08:11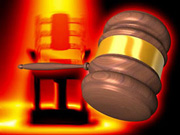 A woman who told police a deadly apartment building fire began when she tried to light a dollar bill to warm her feet pleaded not guilty to murder and arson charges on Thursday. A grand jury indicted Mary Smith two weeks ago in the March 10 fire that killed four people.
Defense attorney Jacqueline Ross said at Smith's arraignment that his client is taking psychiatric medication and being treated for mental health problems. She is being held without bail.
Prosecutors say Smith gave a videotaped statement in which she admitted to starting the blaze by trying to warm her feet by lighting a dollar bill that an apartment visitor had given her.
Smith was wearing plastic bags on her feet when she was arrested at a nearby coffee house. Prosecutors have not decided whether to pursue the death penalty.