Ex-Ferrari F1 men guilty of industrial espionage


International - POSTED: 2007/04/25 15:19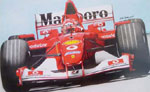 Two former employees of the Maranello Italy based Ferrari Formula One team who later worked for the rival Toyota Motorsport F1 team in Cologne, Germany have been found guilty of industrial espionage and have been given suspended prison sentences.
The Italian Gazzetta dello Sport newspaper reports that Mauro Iacconi and Angelo Santini were found guilty by a Modena court in a case in which they charged with espionage, including gaining unauthorised access to Ferrari's computers and the misappropriation of files.
Santini and Iacconi, who were dismissed by Toyota before the case was made public, have both appealed against their sentences.