Iraq court endorses death for ex-official


International - POSTED: 2007/03/16 18:52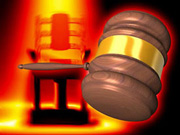 An Iraqi appeals court Thursday endorsed the death sentence of Taha Yassin Ramadan, vice president under Saddam Hussein. The Court of Cassation had previously overturned the criminal court's original verdict that sentenced Ramadan to life in prison, saying he, like Saddam Hussein and two other former aides, should be put to death. The court amended the verdict to death and the cassation court Thursday approved it.
Saddam was hanged in December, while his half brother Barzan al-Tikriti and Awad al-Bandar, former head of the Revolutionary Court, were executed in January on charges of killing 148 people in the Shiite town of Dujail following a foiled assassination attempt against the former president in 1982.
Now Ramadan is expected to be hanged within the next 30 days.
Meanwhile, officials in Baghdad announced the death of former National Assembly speaker Saadoun Hammadi, presumably while in custody. Mohammad Hamza al-Zubaidi, the former deputy prime minister under Saddam's regime, died of a reported heart attack last year while in U.S. custody in Iraq.